LA BELLE CHANSON
https://www.youtube.com
PETER PAUL & MARY TIP 1965
A SONG TO SING ALL OVER THIS LAND

The In Concert set, which was released on July 24 (the second day of the 1964 Newport Folk Festival, gave a good idea of the on-stage abilities of an act that had become a worldwide success. A trade ad for the album noted that, since forming, the trio had played over 400 concerts to more than two million people. (Shortly after the LP's release, they embarked on a nine day tour of Japan.) More than half of the 19 selections had not appeared previously on a Peter, Paul and Mary album. And the nearly 82-minute running time allowed space for the whole range of the group's talents, from its mastery of traditional and thoughtful new material to Stookey's previously unrecorded comic sensibility. "I think that the In Concert album in it's own way had something very, very special," said Yarrow. "There was a sense of really being there at the concert, and there really was a sense of capitulation of the flow of the concert. It had a point of view. It had a consistency in sound terms."
At a time when double-LP sets were practically unheard of, In Concert peaked at #4 on September 26, staying on the charts 54 weeks. By mid-September, according to Warner Bros. national sales manager Bob Summers, it had sold 223,000 copies. despite the steep $7.98 list price. It became Peter, Paul and Mary's fourth straight gold record on January 21, 1965.
That was two days before their next, studio-recorded single hit the charts. "For Lovin' Me" marked a new songwriting discovery, as Peter, Paul and Mary introduced the work of Gordon Lightfoot to a mass American audience. The single, which prefaced their fifth album, hit #30 on the Hot 100 for the week ending February 20 (in Cash Box, it got to #25).

The fifth album, A Song Will Rise, appeared in March. It was, in a sense, the last of a quartet of albums that made up the early Peter, Paul and Mary sound. Again employing two-acoustic-guitars-and-acoustic-bass instrumentation, it featured a combination of recent cover tunes, such as "For Lovin' Me" and Dylan's "When The Ship Comes in," with songs associated with the groups' predecessors, such as the Weaver's 'Wasn't That A Time," and a collection of revised traditional songs (which, for once, bore credits for adaptation and arrangement rather than implying original composition). As a harbinger of the future, both Yarrow ("Gilgarra Mountain") and Stookey ("Talkin' Candy Bar Blues") each had songs they had written alone on the LP.
"The Concert album was a departure, but the first four [studio] albums really were recorded from the same perspective, and we developed the songs from the same perspective," Yarrow said. "I think maybe [with] A Song Will Rise perhaps there was a diminution of that straight clarity about what we were reaching for, to a certain degree. I think there was the beginning, after that album, of starting to do more of the material that was written by me and Noel, and so there was a shift in focus in the material we were addressing."
There was also a diminution of sales. A Song Will Rise reached #8 on May 22 and enjoyed a 38-week chart run, but it took more than five years to go gold. Clearly the music scene was changing, and Peter, Paul and Mary had to change with it to keep current. Fortunately, they were changing, as subsequent releases would show.

On Sunday, March 21, a group of civil rights activists led by Martin Luther King began a march from Selma, Alabama, to the state capitol in Montgomery along the Jefferson Davis Highway to petition the Alabama state government, led by Governor George Wallace, to improve racial conditions in the state and allow Negroes to register to vote. Actually, they had tried to march two weeks earlier, only to face a wall of state troopers that beat them severely-- 70 went to the hospital, and another 70 were treated for injuries and discharged.
The incident had attracted national attention, drawing the participation of ministers all over the country and extensive media coverage. Finally, the state courts sanctioned the march, which took several days to accomplish. But on the evening of March 24, a crowd of 10,000 in Montgomery heard Peter, Paul and Mary sing, "How many roads must a man walk down..." Not only had the group joined the march, but Travers had brought along her mother. "She went to all the big marches with us," Travers said.
The Selma-Montgomery march offered evidence that the civil rights movement continued to face organized, violent resistance, and King's non-violent response became increasingly frustrating to the more radical elements of the movement. The earlier phases of the struggle had had their violent episodes, too, but this was the worst one yet.
Peter, Paul and Mary were nominated in their usual categories in the 1964 Grammy Awards given out on April 13, 1965-- In Concert was up for Best Performance by a Vocal Group and Best Folk Recording. But this time around, the Beatles' A Hard Day's Night bested them in the former category, while Gale Garnett's We'll Sing In The Sunshine won the latter.
Warner Bros. released a second single from A Song Will Rise that month, and predictably it was the Dylan song, "When The Ship Comes In." The 45 peaked at #91 on the hot 100 on May 29 (it got to #83 in Cash Box).
Given the group's slight fall-off in record sales, this was a curious time for Billboard to run a page 3 story in its June 19 issue entitled. " Peter, Paul and Mary Ride High," but the statement was justified. The article noted that the group's first album had sold over two million copies, and overall domestic sales were over six million, with overseas sales of 750,00 records. In August, they were due to launch a world tour, starting in Hawaii and going on to Australia, then jumping to England and France, before they hit the U.S. college circuit at the start of the new school year.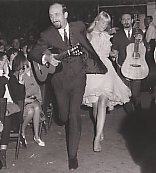 Before the tour, they had some other appearances to make. Friday, July 2, was named Peter, Paul and Mary day in Los Angeles; they were given a commemorative plaque and named honorary citizens. Three weeks later, they were in Newport for the annual folk festival.
It was of course, the memorable weekend when Bob Dylan "went electric" to a chorus of boos. Actually, Dylan had done rock sessions in January, and the songs had appeared on his album Bringing It All Back Home, released March 22. Then, there was the single "Like A Rolling Stone," released July 20. It may be, however, that the folk fans who came to Freebody Park didn't expect him to play the same kind of music at Newport. It may be, as Eric Von Schmidt has theorized, that Dylan didn't either, that he saw the Paul Butterfield Blues Band at a workshop on Friday, July 23, and on the spur of the moment invited them to join him on the main stage on Sunday the 25th. (That wouldn't be out of character-- it's exactly the same way Keith Richards and Ron Wood found themselves backing him at Live Aid 20 years later.)
Peter Yarrow once again was wearing two hats as a performer and a member of the Newport board, and he introduced Dylan, "I was the person who at that point was kind of the liaison and the inviting person for Peter, Paul and Mary, Joan Baez, Bob Dylan, etc." he said, "and therefore I felt a certain responsibility to make sure that everybody that I had on an ongoing basis talked to, was comfortable with what was going on. That particular event-- Pete [Seeger] had decreed that the way we would make it a more egalitarian festival was that we wouldn't have the so-called stars appear at the end of the program.

"So, Bobby was supposed to perform in the afternoon, and he was anxious about it. He felt that people would be unhappy about it, that they wouldn't know that he was performing then. It felt at that point, I think, like a slap in the face rather than a move to make things egalitarian, because the way it was programmed [previously], you put the newest folks in the beginning, and then as the afternoon wears on you do a lot of the traditional stuff, then at the end of the evening you crown it with the people who really had drawn the crowd, and certainly he was one of those people. So, I think he was upset about that. I know he was upset about that and felt that he was in an awkward position.
"He had planned to perform on the stage with the band, but I suspect that it might have been presented differently and received differently if it had been done at the end of the evening. If you share an experiment with your audience and make them a part of it, they're more likely to embrace it and say, 'Yeah, we like it,' or 'We don't like it,' but not consider it an affront. After all, this was an acoustic festival, had been. That doesn't mean there weren't elements that were non-acoustic, but basically it was an acoustic festival, and Bobby was one of the big heroes and continued to be long after and still is of the folk and a great folk poet unquestionably. But there was no kind of introductory. 'This is a new part of my work,' Bob was never explanatory. As a matter of fact, it seemed as if he always took delight in shocking people with his new incarnations, and when he went on-stage some people say that it was warmly received. My recollection is that it was anything but, that people were in shock and they were amazed and they were upset and Bobby knew that.
"By the way, the only one that really worked for me was 'Maggie's Farm' [the opening number]. They didn't have sophisticated monitor systems. People couldn't really hear themselves terribly well. It wasn't technologically set to be able to do a well-integrated, precise show. You couldn't hear Bobby's voice properly on-stage. There was a lot of leakage of the electric instruments. 'Maggie's Farm' kind of worked 'cause it's so direct."
'But he was very disturbed by it when he got offstage, and I gave him my guitar, and I said 'Go back on,' which he did. [Dylan then earned a standing ovation for playing two acoustic songs.] He felt at the time that he had become the victim of some kind of inappropriate series of decisions that had put him on the spot, I think. I don't know what was in his heart, but that's the way it felt. He said as much to me, but I don't want to repeat his words. I think that it was very disturbing and shocking to people-- to some people, not everybody. I think there were some people that welcomed the experiment, but I don't think a lot of people. They regarded it as something [that hadn't] really worked terribly well at that point. It just wasn't something that had evolved so you could really feel it and hear it and get it when presented in that context."
"I think it pointed up very positively the fact that people really cared deeply about this music, whether they were purists or no-purists or folkies or neo-folkies or contemporary urban enthusiasts or whatever, they all cared about the music deeply and it was more than entertainment, it was the holy grail of sensibility. And the most important message we get from the pandemonium that ensued and the discussion that has succeeded this event was how very much people cared about folk music at the time and how important, how much reflection, that is, of the importance of the way the music was received in those days."
"The sense of oblique reference to oneself or a form is now the way in which many performers present themselves. Certainly, that was one of the inherent aspects of punk rock, kind of taking some of the elements of the mechanization of human beings and using that particular art attitude as a way to comment upon the advent of technology as it affected people in some positive and some negative ways. I mean, that convention, that poetic commentary, is now very much understood, but in that earlier era, coming from a folk music person, it was not understood."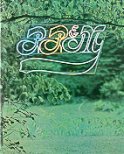 "And I'm not exactly sure whether there wasn't the intent to shock, if only [because] Bobby's done it enough times to wonder. I know Bobby was able to sing very prettily 'The Banks Of The Ohio' and other songs before Peter, Paul and Mary were together, in fact, as I remember, or maybe during, but before we had recorded 'Blowin' In The Wind.' I remember that Albert Grossman used to say that one of the reasons he chose to sing that way [i.e., not so prettily] -- Albert felt he did it so that people would focus on the words. I tended to think that he understood the power of the way in which Woody presented his songs and reconceived of that for himself as a kind of a base point. Indeed, in the beginning, Bobby sounded like he was a kind of devotee of Woody Guthrie and he was just emulating him. But obviously he took that some place very special and very personal."
For their part, Peter, Paul and Mary were so busy at this time that they had had to fly out of Newport back to New York on Saturday, July 24, in the middle of the festival, for their annual appearance before 15,000 fans at the Forest Hills Tennis Stadium. (Already, at that concert, they were singing songs that would appear on their next album.) Then, they had flown back to Newport for the final day's shows.
On September 25, Billboard reported, "PP&M Grosses $211,000 In 1st Half Of Global Tour." There had been two shows in Hawaii, August 20 and 21, and eight in Australia, August 25 to September 4, all sellouts. The group had taped a TV special, then played a week at the Olympia in Paris, ending September 15. Now they were on a nine-date tour of England, running from September 19 to October 3.
In September, Warners prefaced the new Peter, Paul and Mary album the same way they had the last one, by releasing a single version of a Gordon Lightfoot song. This time it was "Early Morning Rain," which peaked on the Hot 100 at #91 for the week ending October 23.

See What Tomorrow Brings was released on October. Despite the disappointing performance of its single, and Warner's failure to release a second one, the album peaked at #11 on December 18, staying in the charts 39 weeks. Like A Song Will Rise, it didn't go gold until 1970. Yarrow spoke of the "very interesting experimentation" on songs like "Early Morning Rain," noting that the group used a new engineer, Harry Yarmack. Today, one admires the typically excellent selection of material, including Tom Paxton's "The Last Thing On My Mind," "Brother, (Buddy) Can You Spare A Dime," which Yarrow had been performing since his earliest shows, and Ewan McColl's "The First Time Ever I Saw Your Face," later to be a major hit for Roberta Flack.
But John Court, back to writing liner notes, may have captured the nature of the group's dilemma. Evoking the Beatles, Bob Dylan and the Rolling Stones, Court noted the changes in the field: "...even Bob Shelton no longer considers himself the folk music critic of The New York Times. He's now the pop music critic." Court reported that Yarrow recently had met Brian Jones "at a New York discotheque," and exchanged phone numbers. But though Court claimed that, "In this era of new musical electricity, Peter, Paul and Mary still strum their hollow core guitars and blend their vocal emotions to no less of an audience and with no less a contagion of excitement," the group had just about come to the point of plugging in.
On November 2, a Quaker named Norman R. Morrison set himself on fire outside the Pentagon in protest against the Vietnam War and burned to death. Since August 7, 1964, when Congress passed the Gulf of Tonkin Resolution authorizing Lyndon Johnson "to take all necessary measures" in Vietnam, U.S. involvement had escalated. By the end of 1964, there were 23,300 American troops in the country. On February 7, 1965, the U.S. Air Force began bombing North Vietnam. In May, a "teach-in" was held on college campuses to discuss the war. On July 28, Johnson doubled the number of draft calls and announced that the troop deployment would rise from 75,000 to 125,000.
Though Norman Morrison's death was the first incident to attract national press coverage to opposition to the war, it had been growing throughout 1965. On October 15, anti-war rallies were held in 40 cities. On November 27, under the auspices of SANE, the Committee for a Sane Nuclear policy, 20,000 to 35,000 anti-war protesters marched on the White House.
Peter, Paul and Mary continued to tour successfully. On February 25, 1966, when they played the Philharmonic Hall in New York, 300 seats were placed on the stage to accommodate the overflow crowd.
In March, Warner Bros. Records released as their next single a new version of "The Cruel War," a song that had appeared on their first album. "The Cruel War was written at the time of the Revolutionary War," read a full-page ad in the April 2 issue of Billboard. "However, it has a poignant relevance to our today. A single performed by Peter, Paul and Mary with strings."
"I think that it was a song that was being rediscovered," said Yarrow about the special release. " And of course there was the mounting awareness of the Vietnam War." "The Cruel War" peaked at #52 on the Hot 100 on May 21. It might have done better if Chad Stuart of Chad and Jeremy had not released a competing version in a duet with his wife Jill.
On March 15, again nominated for the Grammy Award for Best Folk Recording for A Song Will Rise, the group lost to Harry Belafonte and Miriam Makeba for An Evening With Belafonte/Makeba.

The seventh LP, called The Peter, Paul and Mary Album, its cover depicting the group in 19th century dress in a photo album frame, was released in August. "We started to use other instruments at that time," Yarrow said. "We now were able to start doing some overdubbing. There was also experimentation by Noel, to use all his mouth sounds with 'Norman, Normal.' I recorded 'The King of Names,' which is an updated version of 'There's A Man Goin' Round Taking Names,' which was a song sung in the blacklist era, and used Paul Butterfield and Mike Bloomfield."
The added effects were subtly mixed with the group's usual acoustic approach, though it was unusual to hear Hargus Robbin's piano on "Sometime Lovin' " and Mark Naftalin's Hammond organ on "The King Of Names." Stookey's "The Good Times We Had" featured various reed instruments, as did "Hurry Sundown." Fred Neil's "The Other Side of This Life" had a rollicking country-rock sound, courtesy of Bobby Gregg's drums and Ernie Hayes's piano.
In other ways, however, Album resembled its predecessors. The group was introducing more new songwriters, leading off the LP with Laura Nyro's "And When I Die" three years before it would become a hit for Blood, Sweat and Tears. "For Baby (For Bobbie)" was credited to H.J. Deutschendorff, Jr., currently a member of the Mitchell trio, who would gain greater known under his adopted name, John Denver. As usual, there was a tip of the hat to the Weavers with a version of "Kisses Sweeter Than Wine," and acknowledgment of contemporaries in Richard Farina's "Pack Up Your Sorrow" (made particularly poignant by Farina's death in a motorcycle accident the previous April 30) and Hamilton Camp and Bob Gibson's "Well, Well, Well."
But the album failed to stop the group's commercial slide, peaking at #22 on October 15, though it stayed in the charts 53 weeks. "The Other Side Of This Life," released as a single, only made it to 3100 for a week on September 24, and "Hurry Sundown," despite being featured as the theme song of an Otto Preminger-directed film, failed to chart when released on 45 at the end of the year. The song did earn them another Grammy nomination for Best Folk recording, but they lost out to Blues In The Street by Cortella Clark. (A third single, "For Baby [For Bobbie]" appeared after the first of the year, but attracted no notice.)
Album may be thought of as a good tentative first step into a new style for Peter, Paul and Mary. "The album did not have the sense of cohesiveness in terms of sound that we once had," said Yarrow, "and we are reaching out for new kinds of experimental feelings and ideas."

The group backed the album with more extensive touring in the U.S. in the fall, then after the first of the year went to the Far East, their work traced by Variety, which reported on January 25, 1967, "PP&M Hottest Unit In Japan Since Beatles, 4-City Sellout For 11 Perfs." Yarrow was reported to be "producing a full-length documentary-type film about youth on the loose" with Barry Feinstein, while Stookey was "about to make a color cartoon for Warner Bros. which will have the singer participating in the writing and direction as well as doing the voices and sound effects." (This was an animated version of "Norman Normal" from Album.)
Yarrow denied any suggestion that such activities presaged the breakup of the group. "Going into our own separate areas peculiarly is not the thing that will keep us apart, but which will hold us together because it never was three people attempting to project the same personality," he told Variety. "The struggle is to maintain our individual contributions to the group as well as creative forces."
Yarrow said his film was being edited and was targeted for a general release in the spring. "It will show a phase of an era that people didn't know came and went," he said, "It's about a world the young people have created." He said the documentary would have no soundtrack other than music, emphasizing it was "a very non-verbal film" with a non-professional cast.
Nineteen sixty-seven saw upheavals in popular music at least as dramatic as those that had occurred in 1964, In the U.S., it was the year that San Francisco's psychedelic acid rock went national. In England in June, the Beatles unveiled Sgt. Pepper's Lonely Hearts Club Band, upping the ante for their competitors, most of whom were unable to keep up.
Since Peter, Paul and Mary had barely made their peace with folk-rock, one might have expected them to fall even further behind. Instead, they mounted a popular comeback on the charts. The vehicle for it was a novelty song called 'I Dig Rock And Roll Music," in which the group performed affectionate impersonations of the Beatles, the Mamas and the Papas and Donovan.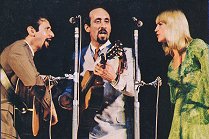 The song has been widely misinterpreted. "...They sneered in fear at the growing importance of rock with "I Dig Rock And Roll Music'..." wrote New York Post pop critic Ira Mayer. (The Rolling Stone Record Guide, edited by Dave Marsh with John Swenson, New York: Random House/Rolling Stone Press, 1979) Mayer and other rock critics who failed to perceive the song's good-natured viewpoint and sense of tribute (blind spots not shared by record buyers) may have been unaware of Noel Stookey's background in R&B, not to mention comedy, and love of the Beatles and other pop artists. Or maybe they just couldn't take a joke.
"I really was saying that [I dug rock and roll music]," Stookey said," although I think you have a very enlightened perspective. I think it was pretty much viewed as us making fun of rock 'n' roll. But perhaps it took a David Lee Roth to open up rock 'n' roll's sense of humor-- Joe Walsh and David Lee Roth, I think, who could look at themselves with a degree of humor. Although the Beatles certainly did it."
"The fact is, we knew, or had met, all of the participants of the put-on. I had a particularly fond heart for Donovan ... We had a lot of fun. But it still, nonetheless, was a pastiche of a lot of different glimpses or takes on a lot of musical styles. 'I Dig Rock And Roll Music' was a song of the times. Do you remember the mirrored shirts that people used to wear? Well, 'I Dig Rock And Roll Music' was like a flashy little bunch of mirrors. In a sense, we were having fun duplicating musical styles of people that we knew and in most cases appreciated."
The track was far more elaborate than any the group had attempted up to that time, as they recreated not only the singing styles, but also the sometimes involved recording gimmicks. One was a common effect on vocals that everyone from the Beach Boys forward tried (and that, like many '60s tricks, was formalized in technological advances of the '70's)-- speeding up the singing.
They had done that before on other recordings. "What we used to do is slightly speed it up by winding the capstan [of the tape recorder], but with tape," Yarrow explained. "That was done with 'I Dig Rock And Roll Music' quite deliberately. What it did was kind of energize the whole thing."
Released the first week of August, "I Dig Rock And Roll Music" became Peter, Paul and Mary's first Top 10 hit in four years, peaking at #9 on the Hot 100 for the week ending September 23 and serving as an excellent lead-in to the group's eighth LP, Album 1700 (named for its catalog number), which was released in the middle of August.

Arguably Peter, Paul and Mary's best record since their debut LP, Album 1700 found them confidently incorporating the stylistic developments first introduced on Album while growing enormously as songwriters. As usual, their songwriting peers were included, as the album led off with Eric Andersen's "Rolling Home," followed by John Denver's "Leaving On A Jet Plane" (a recording that would find belated success in a couple of years) and also featured "Bob Dylan's Dream," another Freewheelin' alumnus.
But eight of the 12 songs were credited to the singers, singly, or in combination with co-writers. And they were of unusual quality. Yarrow's "The Great Mandella (The Wheel of Life)" was an agonizing anthem about the struggle and death of a pacifist. The song not only expressed what many in the anti-war movement felt, but predicted much of the cynicism and despair they would come to experience.
Stookey's "The House Song" was an extended metaphor that began a journey of self-discovery for the songwriter. "'The House Song' was a curiosity for me because it truly began as a song about a house and then transformed itself," Stookey recalled. "It began walking, it became the shell of my life, and it was a beginning, really. 'The House Song' was very significant for me because it was the beginning of telling the truth about my life, which then required me, in a sense, to take seven years off to implement because prior to that I had not been playing with a straight deck."
Such songs were deeply felt statements, and they were only the highlights of an album that also boasted Yarrow's "Weep For Jamie" and concluded with the stirring, group-written (with Dave Dixon and PP&M on-stage bassist Dick Kniss) "The Song Is Love."
Yarrow identified one important new name in the credits as a force in achieving the albums artistic success: chief engineer Phil Ramone. "It is only, really, from my perspective, [with] our association with Phil that there [occurred] a kind of artistic flow and flex that united the album so it felt of one piece, even though each song sounded different," Yarrow said. "Phil would make each song its own sonic world. He was officially only the engineer, but he was as much the producer as he ever was. He would suggest ideas that were very, very unusual. In a song for instance like "Weep For Jamie," he would get a little religious pump organ that would have this textural energy that was so strong, and he would set the echoes in a way that was masterful. It was just so present and so rich and so spatial, the echo that he created, and he was such a catalyst and such an innovative person. His treatment of echo, for instance, on 'The House Song' was just extraordinary. The Paul Winter Consort joined Noel on that. We for the first time used percussion on that album. There was a group called the Paupers, and their percussion player played on some of the songs, like 'If I Had Wings.'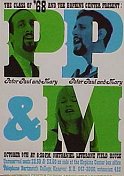 "This was a real breakthrough album for us. It completely realized what the experiments were about, and it was really something which, when guided by Phil and led by Phil, really reached a new artistic high for Peter, Paul and Mary: I'd say the second wave of our recording experience was personified by that album. In terms of recordings in the studio, no doubt there was a great leap that we made for Album 1700."
Album 1700 entered the Billboard Top LP's chart for the week ending September 2, 1967, and peaked at #15 on October 21. It remained in the charts 28 weeks, falling out of the list in March 1968. Then it returned to the charts in July, stayed for two months and dropped off again. (Peter, Paul and Mary were nominated for the 1967 Grammy Award for Best Folk Performance for Album 1700; on February 29, 1968, they lost to John Hartford and "Gentle On My Mind.")
On August 31, 1967, the Venice Film festival premiered Festival, a documentary directed by Murray Lerner containing highlights of the Newport Folk Festivals of 1963 -1966. Peter, Paul and Mary, of course, were featured prominently, singing a number of songs, along with Bob Dylan, (acoustic and electric), Joan Baez, Donovan, Judy Collins, Johnny Cash, Pete Seeger, Buffy Sainte-Marie and Howlin' Wolf, among others. Festival opened in New York on October 28, but did not have widespread distribution. The original 80-minute black-and-white film seems to have been expanded to 98 minutes for a second U.S. theatrical release in 1970, but despite the obvious historical value, it has not appeared on video.
The third week in October was designated by the anti-war movement as Stop the Draft week. It culminated on Saturday October 21, as 50,000 people, after listening to Peter, Paul and Mary and Phil Ochs sing at the Lincoln Memorial, marched on the Pentagon. During the daylight hours, the military police tolerated the hordes of demonstrators, who put flowers in their guns and asked them to join the movement. But late that night, paratroopers arrived and beat the remaining protesters mercilessly.
Rather than follow up the success of "I Dig Rock And Roll Music" with a second single drawn from Album 1700, Peter, Paul and Mary released a one-off single in November, a new Bob Dylan song called "Too Much Of Nothing." Dylan had retreated from public view after his motorcycle accident in July 1966, but he continued to write and record informally with his backup group, later dubbed the Band, while recuperating in upstate New York and acetates were circulated, resulting in a flurry of covers, notably Manfred Mann's "The Mighty Quinn (Quinn The Eskimo)" and "You Ain't Goin' Nowhere" by the Byrds. A later result, of course, was the bootlegging of the material, known as "The Basement Tapes."
Like other Dylan songs written in this period, "Too Much Of Nothing" combined a strong, pop melody and chorus hook with lyrics that resisted concrete analysis. What, for example, was one to make of a chorus that went, "Say hello to Valerie/Say hello to Vivian/Give them all my salary/On the waters of oblivion"? [Peter, Paul and Mary changed Vivian to Marion in their version.]
But the tone of the song was clearly ominous-- "When there's too much of nothing/No one has control"-- which made it very timely in late 1967. Peter, Paul and Mary's arrangement, rhythmically complex and with the three voices appearing at odd intervals, along with a prominent harmonica, effectively reflected the mood of the song and was catchy, too.
"Too Much Of Nothing" peaked at #35 on the Hot 100 for the week ending December 30, 1967.
That same month, political activist Allard Lowenstein of Americans for Democratic Action persuaded Minnesota Senator Eugene McCarthy to run for president in 1968 as an anti-war candidate. On January 30, the Viet Cong launched the Tet Offensive in South Vietnam. Defenders of U.S. policy said it was the last gasp of a losing effort; critics said it gave the lie to the government's assurances of success in the war.
On March 12, Lyndon Johnson, who had not announced his intentions about re-election, won the New Hampshire Democratic primary as a write-in candidate with 48 percent of the vote. But McCarthy was a close second with 42 percent, and this was perceived as a repudiation of Johnson and his Vietnam policy.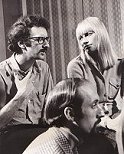 Peter, Paul and Mary, on a tour that brought them to Carnegie Hall in New York three nights after the primary, soon were drawn into the McCarthy campaign. In fact, their next single was called "Eugene McCarthy For President." It was a 45, and it was a campaign song for him that I wrote," said Yarrow. "We recorded it, and it said, 'If you love your country and the things for which it stands, vote for Gene McCarthy and bring peace to this, our land.' That was the chorus. We gave it to the campaign to make money and also to raise consciousness and get whatever solidarity that kind of song at that time could produce."
The single was released without a record label. "In those days, people in the record companies didn't think about prohibiting artists from doing what they wanted to do or limiting the amount of work that they wanted to do in the service of their own vision or in the service of society." Yarrow said. "Today, it's written into most contracts that they can only do so many 'charity' albums a year or whatever, which is to me indicative of the degree to which the music business has become business as opposed to real people with a passion, a vision of life and a creative tool to express that vision."
In Portland, campaigning for the Oregon primary in May, Yarrow met McCarthy's niece. "We were on the campaign trail, and that's where I met Mary Beth McCarthy, who then became my wife," he said, "and my daughter Elizabeth Bird Yarrow and my son Christopher Michael McCarthy Yarrow are the progeny, and [Mary Beth] and I, although we're not together, are very, very dear, close friends, very much together. That was a great time, and I remember meeting her in Portland, but I'd already written the campaign song then."
Shortly after the New Hampshire primary, Senator Robert Kennedy had joined the race. On March 31, Johnson had announced his decision not to run. (Four days later, Martin Luther King was assassinated in Memphis.) Shortly afterward, Vice President Hubert Humphrey announced his candidacy. Since Humphrey's announcement came too late for him to qualify for the primaries, McCarthy and Kennedy competed with each other across the country. McCarthy won a narrow victory in Oregon, and the following week Kennedy bested him in California. But after addressing his followers at the Ambassador Hotel in Los Angeles, Kennedy was assassinated.
Peter, Paul and Mary made their way through this shocking year, alternating benefits with regular concerts. On July 13, for example, they drew the biggest crowd of the summer concert series, 11,000 to Forest hills, and they made their fifth annual visit to Hawaii, appearing on the 26th and the 27th at the Waikiki Shell.
But much of their energies were focused on politics. Nineteen sixty-eight was a transitional year in presidential politics in the sense that, while state primaries had gained increasing importance over the last several elections, the influence of party bosses remained strong. In later years, it probably would not have been possible for a candidate who had missed the primaries, such as Humphrey, to overcome one who had run in them and won many, such as McCarthy. But as the Democratic National Convention approached in Chicago in late August, Humphrey was a shoo-in for the nomination.
The convention became a focus for the anti-war movement. Denied permits by Chicago Mayor Richard Daley, demonstrators nevertheless massed in Grant Park as the convention went on during the week of August 26. Soon, the television networks were alternating their coverage of the convention with film of people being tear gassed and beaten by police in the streets. Among those people were Mary Travers and Peter Yarrow.

As it happened, the same week, Warner Bros. Records had a new Peter, Paul and Mary album to release. Late Again, the trio's ninth album, may have been its most sophisticated work, which is exactly what gave Peter Yarrow reservations.
"To me- I know there are varying opinions, and I would suspect that Noel disagrees with me on this because he was the one that was fascinated really with the Beatles and their kind of recording technologies and experiments and ideas - I felt that Late Again was unsuccessful in some ways on some of the cuts, and successful on others," Yarrow said. "I think it lost the intimacy and the sense of real performance by virtue of some of the experiments that were being performed. I think that 'Apologize' [the lead-off track, written by Stookey] - it was divisive to me, rather than just being what we were best - playing our instruments, singing our songs, connecting with each other as deeply as we could and letting the song speak for itself - and that division between our points of view has continued."
"He's always - you'll hear it on the last album [LifeLines], for instance. It's a brilliant production, attitude, that he worked very hard with Phil [Ramone] to achieve on 'For The Love Of It All,' and that was his song, and you hear it, and it's extraordinary. But it doesn't come across to me like a folk song, like it does when he just plays the guitar and sings that song, which is acoustic, unplugged. There's nothing wrong with it, it's just, idiomatically, it doesn't carry itself in the same way."

"I think those differences between our points of view - and Mary's, I think, is more coincident with mine - have produced a very rich result. Sometimes we have a more or less successful song. 'Love City,' for instance, on Late Again, there was something that worked in that for me because it was relating to the message of the era of the Beatles, and therefore it's echoing of the Beatles' kinds of experiments. Really, it kind of resonated as almost an homage."
"When it was really under Phil's control to do 'I Dig Rock And Roll Music' on Album 1700, it completely leapt away from the rest of the album in a different way, and yet because of the guidance of Phil was kept within the framework of something that was acceptable, and he moved in and out of it on the rest of the album. Whereas I think on Late Again, it just goes in and out of experiments, and some of them don't really relate so much to one another."
"For instance, 'I Shall Be Released' on that album to me does not work. I far prefer the version of 'I Shall Be Released' that we did later on, on Flowers And Stones. It was wise and rewarding to revisit that song at a later time because I never thought we did it justice. And that one was, I think, my mistake. I went down to Nashville and cut the track, with those great players down there, like Kenny Buttrey, and cut the track for 'Reason To Believe.'"
Whatever the musical influence of the Beatles on Late Again, the album did parallel the sound of Beatles records of the time in another way: Like the Beatles' "white album," released in November 1968, Late Again often seemed not so much the work of a group as of three occasionally overlapping solo performers. If Yarrow struggles to appreciate the virtues of "Apologize" and "Love City (Postcards To Duluth)," not to mention the remarkable religious ballad "Hymn" (a statement of faith combined with a criticism of established Christianity), it may in part be that these are Stookey's songs, one's with which he was not closely involved. On Late Again's cover, annotators like John Court and Bob Dylan have been replaced by individual poems by Travers, Stookey and Yarrow, and that individuality was carried over onto the record itself. Late Again was the last studio album of new material Peter, Paul and Mary would make together as a group for ten years.
The same week that Late Again was released and that Travers and Yarrow spent facing the police in Chicago, a movie called You Are What You Eat began previewing in New York. This was the documentary upon which Yarrow had been working since 1966. Variety, in a September 4 review of the August 26 preview of the 75-minute film, which was produced by Yarrow and Barry Feinstein and directed by Feinstein, called it "...a throbbing collage of hippie fun-and-games, a random documentary of today's dropped-out youth (and of their precursors), and acid-rock happening, an abstract collection of sights and sounds in which the people often seem the greatest abstraction of all." The difference, said the reviewer, between this film and other similar ones, was its attitude. 'Feinstein and co-producer Peter Yarrow ... are obviously ambivalent toward these lunatic outbursts, at one moment beguiled, at the next alarmed."
Renata Adler, reviewing You Are What You Eat in the New York Times the day after its September 24 opening, was more positive. "Peter Yarrow ... and Barry Feinstein ... have caught ... the youth and Sunset Strip scene at its apogee," she wrote. "It is the 8 1/2 of the younger set."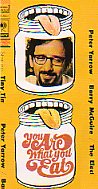 Though she called it "a movie to be seen when you are turned on in some way," Adler added, "But it is all there, the clothes, the flowers, the grace and the sordidness, dirty feet, police helmets, thumb-sucking, surfing, miscegenation, whitecoated tongues, pot, bubblegum, humor; Father Malcolm Boyd (Are You Running With Me, Jesus?), signs, distortions, willies, chaos and moments of sheer joy." Adler's conclusion reflected the speed with which things changed in the '60s. Though she was writing in the fall of 1968, she already considered You Are What You Eat a period piece. "It is just about the best document of that style and era, when it was thought you could freak out to love, that we have," she concluded.
You Are What You Eat has not fared as well in memory. Referring to it as "the first film made to sell a soundtrack," Jay Schwartz noted, "Director Barry Feinstein ... was apparently given license to aim his movie camera at whatever he deemed interesting, then score the results with rock music and call it a movie." (Hollywood Rock: A Guide To Rock'n'Roll In The Movies, by Marshall Crenshaw, New York: Harper-Collins, 1994) "Silly chronicling of teenage hippies, including the usual love-ins, concerts, surfing, and flower-power in general, but with some excellent songs and performances," wrote Linda J. Sandahl. "Anyway, everyone should see Tiny Tim do Memphis Tennessee at least once." (Rock Films: A Viewer's Guide To Three Decades Of Musicals, Concerts, Documentaries And Soundtracks 1955-1986, New York: Facts on File, 1987)
Okay, so it isn't the greatest movie ever made. But consider the featured performers: Paul Butterfield, David Crosby, the Electric Flag, Harpers Bizarre, John Herald, Barry McGuire, John Simon, Tiny Tim and Peter Yarrow, not to mention cameos by Ringo Starr and the Mothers of Invention. Where can we find this picture?
"I think that there have been 16-millimeter copies of it made available," said Yarrow. "It was with a company, Commonwealth United, they had a business, and it got sold to another group of people. We still had our rights presumably that were preserved. The only rights that could be sold were the ones that the company had. In other words, we had them. But who has them now and who inherited those rights I don't know and to research that would be difficult."
You mean it isn't going to come out on video? "I don't have the energy to try and track it down and put it out," said Yarrow. "I've got to much to do."
Columbia records released a soundtrack album of the film, while Warner Bros. issued as a single Yarrow's "Don't Remind Me Of Time." Since Warner also released "Love City (Postcards To Duluth)" as a single from Late Again, this meant that, in a sense, Yarrow and Stookey were going head to head in the singles charts. Neither made it.
Lacking the impetus of a hit single, Late Again rose in the charts slowly, taking until December 7 to reach its peak at #14; nine weeks later, it had dropped off the list. (Of course, the album earned a Grammy nomination for Best Folk Performance, losing to Judy Collins's "Both Sides Now.")
At the end of March 1969, Warner Bros. released a new single, "Day Is Done." A statement of reassurance from a father to a son, "Day Is Done" was the first of a series of songs -- one thinks also of the Beatles' "Let It Be," recorded around the same time, but released a year later, and Simon & Garfunkel's "Bridge Over Troubled Water," released in early 1970 -- that seemed to reflect the awful consequences of the turmoil of the late 1960s and offer comfort.
'Day Is Done" peaked at #21 on the Hot 100 for the week ending June 21 (it hit #20 in Cash Box). It appeared, in a different recording, on Peter, Paul and Mary's 10th album, a children's collection called Peter, Paul and Mommy released in May. Backed by a chorus of children from the nursery school of the Westchester Ethical Society (shades of the Song Swappers' Camp Songs album), the trio re-recorded "It's Raining" and "Puff, The Magic Dragon," borrowed Tom Paxton's "The Marvelous Toy" and "Going To The Zoo," wrote some new songs and adapted some old ones.

Though there was a tradition of children's songs in folk music dating back to Woody Guthrie, Peter, Paul and Mary were practically alone among major artists of their time in making such an album. They were rewarded with a fast-selling LP that peaked at # 12 in its fifth week on the charts on July 12. (It went gold in 1993.) Peter, Paul and Mommy won the 1969 Grammy Award for Best Children's recording. "Day Is Done", nominated for Best Folk Recording, lost to Joni Mitchell's Clouds.
On October 18, Peter Yarrow married Mary Beth McCarthy. Yarrow had asked Stookey to be his best man and to write a song for the occasion, and the result was "Wedding Song (There Is Love)," which would go on to become his best known composition. "I ... have discovered really that some of my best writing, whether it had words or not, has been because I've helped people out one way or the other," Stookey said. "There's a spirit within the song that is an attempt to explain the request. That's basically what it does, you know, 'Would you write a song for this?' and so you're trying to explain what this is, using your talent, and because you have no hidden agenda you essentially are an instrument of the agenda. And so when Peter said 'Would you write a song to bless my wedding?' I became an instrument of that which wanted to bless his wedding."
On the same day, Album 1700 entered the Top LP's chart for the third time. The reason was that song by John Denver, "Leaving On A Jet Plane." Denver's version of the song appeared on his debut solo album, Rhymes & Reasons, released in September, but it's not clear whether that or something else caused radio stations to pick up on Peter, Paul and Mary's two-year-old album track. Warner Bros. acceded to demand and released the song as a single in October, and it shot up the charts, becoming the trio's only #1 45 on December 30, the same day it was certified a gold record. Album 1700, which broke back into the Top 30, eventually stayed on the charts a total of 82 weeks.
"I think it may have had something to do with the Vietnam War," said Stookey, "you know, as a two-sided sword of folk music that sliced through those times, one side being 'Get the hell out of the war' and all of the unAmerican bacteria that trailed along that side, and the other side being, 'Oh my God,' the poignancy of being away as a soldier and the family waits for the return and all of the tragedy of the traditional tune, as well as this song that John Denver had written, I think came of age in 1970."

"We got lots of feedback from veterans who say that there were two songs, [The other] one was 'Puff, The Magic Dragon,' which had a totally other meaning. [In Vietnam] 'Puff' was C-47 transport that had been turned into a Gatling gunship. I'm talking about the two sides of the same sword --- you sing the song, you don't know what's going to be done with it, and there's soldiers out there laying in the paddies calling for Puff and thanking God that it swung back over them because those guns that Puff had built into the sides were able to chew up an entire football field in about a minute and a half, delivered just an incredible amount of artillery. So, we were aware of a few of the songs being popular, and I think maybe the timing may have had something to do with that."
Warner Bros. drew on Peter, Paul and Mommy for a seasonal follow-up to "Leaving On a Jet Plane," released a single pairing "Christmas Dinner" with "The Marvelous Toy'. It did not chart.
Peter, Paul and Mary's concertizing seems to have slowed down by this point. John S. Wilson of The New York Times, reviewing their November 6 performance at Philharmonic Hall in a benefit for the United Nations International School, described it as one of their "infrequent" appearances in New York.
But the group seems to have been as active politically as ever. The election of Richard Nixon to the presidency in 1968 had led to a continuation of the Vietnam War, and protests only grew larger. On November 15, 1969, Yarrow, Stookey and Travers were among 500,000 people who massed in Washington, D.C. as part of the "Vietnam Moratorium." On January 28, 1970, they played a benefit concert for the moratorium at Madison Square Garden that raised $143,000.

The success of "Leaving On A Jet Plane" renewed Peter, Paul and Mary's popularity. See What Tomorrow Brings was certified gold in January, followed by A Song Will Rise in April. The timing was right for a compilation, and in May Warner Bros. released 10 (Ten) Years Together: The Best Of Peter, Paul and Mary, which rose to #15 during 40 weeks on the charts. It became the group's eighth gold album on October 16 and eventually went platinum as well.
In June and July, the trio toured Europe for the first time in four years. In August, they were back at Forest Hills for another outdoor summer show. But these were some of their final performances. In its October 29, 1970, issue Rolling Stone published an article, "Peter, Paul and Mary: Time Out," in which Mary Travers announced that the group would be taking a one-year sabbatical. "... It's not a new idea," Travers was quoted as saying. "For a long time we've worked very hard, and Paul has wanted to slow down and see what was happening with his life. The most attractive reason for taking [a] sabbatical is that after ten years, you begin to anticipate each other musically, and that's not a healthy thing. So now we can each record a solo LP in fields we'[d] like to explore. Paul is working with Paul Winter, and he's begun an album dealing with instruments other than guitar," The split, Travers noted, was temporary: "We'll get back together and utilize the things we've learned."
This was one way of suggesting that each of the group members seemed to have outgrown the trio, artistically and commercially. By 1970, if not before, all three seemed capable of sustaining separate careers. Travers was always a powerful singer with a strong visual presence; Yarrow and Stookey had developed into accomplished songwriters with different musical and lyrical viewpoints.
And, too, they were hardly alone in their separation. Nineteen-seventy was the year the Beatles broke up, the year Simon & Garfunkel broke up, the year a trend toward solo performers reasserted itself after the '60s era of groups. By the middle of the 1970's, the charts were full of former group members now working as solo acts. If Stookey, Yarrow and Travers looked around them -- as they must have -- they would have felt that the time to be in a group had passed.
Source : http://www.peterpaulandmary.com/history...